"Quali fumetti leggi?""Marvel, solo Marvel. Io e mio fratello collezioniamo tutto da anni"
"Il tuo supereroe preferito qual è?"
"Wolverine"
Un rapido scambio di battute con Luca Abbadir, miglior sous chef d'Italia 2012 e braccio destro di Moreno Cedroni, per capire un paio di cosette su questo ragazzo di 27 anni dallo sguardo limpido e timido, ma diretto come pochi. Sotto la divisa da cuoco una serie di t-shirt della Marvel da Capitan America a Hulk si sono avvicendate nei due giorni di Postrivoro il 13 e 14 ottobre scorso. Io avevo la maglietta di Malefica, la strega della Bella Addormentata nel Bosco, fresca d'acquisto al Disney Store dove ha fatto la sua comparsa una magnifica serie dedicata ai Villains più famosi.
Ma qui si parla di gusto e non di favole e, quindi, entra in gioco il secondo personaggio dalla storia. Carlo Catani è indefinibile. Praticamente è la Mystica della Gastronomia, ovvero il mutante mutaforma. Carlo ama mangiare, ridere, leggere, ascoltare musica. Forse economista, poi girovago, poi direttore amministrativo dell'Università di Scienze Gastronomiche di Pollenzo, poi guru della gastronomia, scrittore, dee jay. Insomma, una conversazione con lui rischia di mandarvi fuori di testa. E anche i suoi cocktail, ve lo posso confermare. A Postrivoro si è occupato dei vini e dei cocktaile stupendoci con una selezione accurata e una bevanda paradisiaca a base di latte di mandorle, sake e alchermes. Il latte di mandorle è stato prodotto sul posto da Marco "Mao" Bonfanti che ha triturato e strizzato le sue mandorle di Noto solo per noi.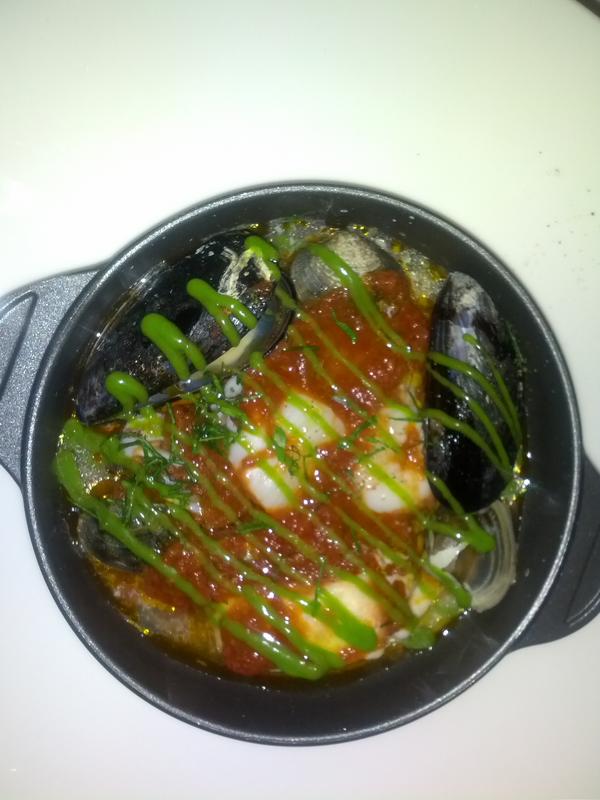 L'accompagnamento alcolico smisurato (sette vini e due cocktail) si abbinava ad un menù misurato, profumato, attento a stupire e deliziare l'ospite. Io Luca lo ammiro. Perchè mi ha fatto mangiare il pesce con gusto e voracità, cosa che pochi erano riusciti a fare. Perchè ha 27 anni ed ha già fatto 10 anni di esperience in importanti cucine, tra cui quella di Heston Blumenthal. Perchè è un direttore d'orchestra in cucina con movimenti misurati e senza mai perdere la calma. Ad accompagnarlo anche Barbara, sua fidanzata e chef con un carattere d'acciaio, e Oscar che per tutti è diventato "lo spagnolo", anche se italianissimo.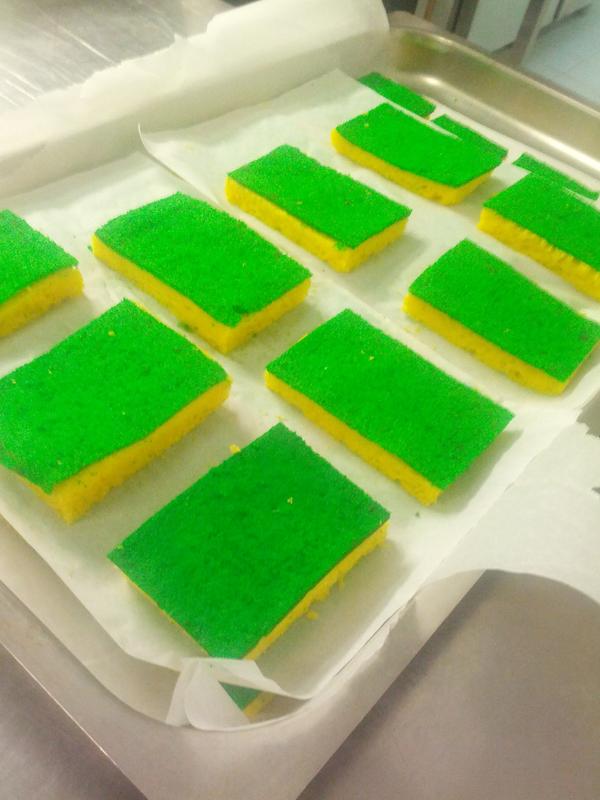 Non sono riuscita ad assaggiare tutti i piatti, perchè la priorità va agli ospiti e a noi organizzatori rimane il piatto della fotografia:) Ma vi posso dire che il guazzetto mi ha fatto letteralmente sognare. Mi hanno raccontato meraviglie del predessert con fegato grasso e caramello. E non posso non sorridere nel ripensare al dessert "E ora…chi li lava i piatti?".
Immaginate di trovarvi la tavola quasi sparecchiata e sopra un foglio di plexyglass una spugnetta gialla e verde. Poi in un valzer di sovrapposizioni il dolce si compone e arriva la spruzzata di Alchermes, il gelato alla mandorla, la crema gialla, lo zucchero a velo, la pasta sfoglia caramellata.
La storia del piatto è altrettanto divertente. La spugna è al centro di uno scambio giocoso su Facebook tra Luca, Alessandro Negrini (Sous chef di Aimo e Nadia) e Carlo Spinelli (alias Doctor Gourmeta, giornalista e viveur). Una volta taggata la foto di una spugna e divulgata come nuova proposta di dessert, Luca non si è potuto tirare indietro e l'ha sperimentata ai fornelli. Il dolce sarà in carta alla Madonnina del Pescatore dal prossimo dicembre.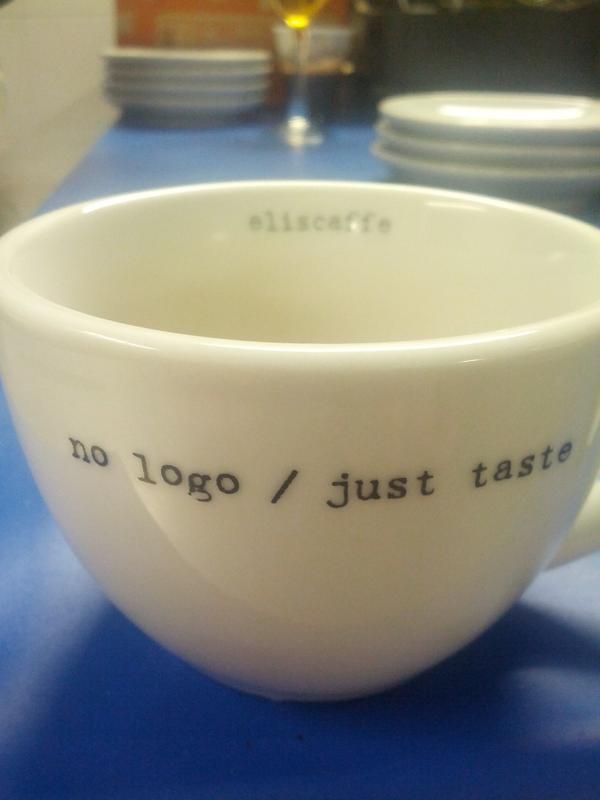 Però, non è finita qui. In arrivo un altro supereroe, Nik Orosi, eletto per tre anni di seguito miglior barista della Croazia e appassionato di caffè. Sceglie la sua miscela, tosta i suoi chicchi e assembla una macchina steam punk  con cui prepara tazze e tazze del suo espresso. Non potete immaginare la meraviglia della domenica mattina, quando stremati dalle poche ore di sonno della notte l'abbiamo visto accendere la macchina e preparare quel nettare scuro e profumatissimo. Io un caffè così emozionante non l'avevo mai assaggiato. Merita un viaggio a Zagabria nel suo Elis Caffe, dedicato al suo primogenito.
E i carretti? Ah sì, quelli servono sempre.
Il menù completo e l'abbinamento vini lo trovate qui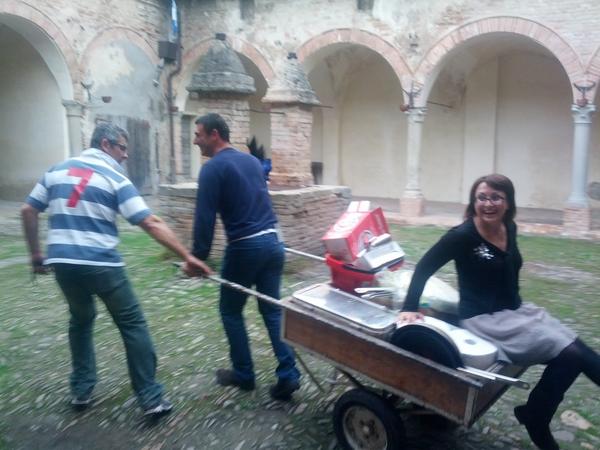 ————- Experimenting english translation for my croatian friends (bloggers, wine and food and coffe lovers) —————-
SUPERHEROES, BARTENDERS AND CARTS. A POSTRIVOROUS TALE WITH LUCA ABBADIR AND CARLO CATANI. GUEST STARRING NIK OROSI
"What kind of comics do you read?"
"Marvel,only Marvel. I'm collecting every issue of every series with the help of my brother. We share the same passion"
"You favourite superhero?"
"Wolverine"
A quick conversation with Luca Abbadir, 2012 best sous chef at Moreno Cedroni's starred restaurant "La Madonnina del Pescatore, made me understand a few more things about this 27 years old guy with a shy and clean look in his eyes. During the 2-days Postrivoro on 13th and 14th october he wore under the kitchen uniform a variety of Marvel's superheroes tees. Luckily just few days before meeting Luca i bought one of the brand new collection of Disney's Villains. And i showed up with a glamourous Maleficent from The Sleeping Beauty. Superhero chef VS Villain Journalist!
Since my niece named her brother "Filippo" from the Prince of the same Disney's movie, my choice was quite inexplicable to her. But she's too young to be explained the evil glamour of a well drawn Villain. I hoped Luca would laugh at it. And i was right.
But it's time to write about taste and not fairy tales and, therefore, let me introduce you the second main character. Carlo Catani is indefinable. He's like a "gourmand" Mystica, the mutant shapeshifter. Carlo loves eating, laughing, reading, writing, listening to music. Economist, former managing direstor of the University of Gastronomic Sciences in Pollenzo, gastronomic guru, writer, deejay. I can say that a conversation with him is likely to send you out of your mind. Such as his cocktails, I can confirm. At Postrivoro it took care of wines and cocktaile surprising us with a careful selection and a drink made from almond milk, sake and alchermes. Almond milk was produced on-site by Marco "Mao" Bonfanti, who has crushed and squeezed his Noto almonds just for us.
The huge alcoholic pairing (seven wine and two cocktails) was matched to a measured, fragrant, careful menù tha Luca thought in order to amaze and delight people. I was totally charmed by his "Guazzetto" that i ate with a mixture of love and greed. I'm not such a fish lover, so Luca succeded in a very complicate mission. Like a superhero to me. Moreover i admire him because he has already made a 10 years experience in major cuisines, including that of Heston Blumenthal. And because he could manage the kitchen with measured movements and never lose his temper. He was accompanied by Barbara, his fiancèe and chef as well, and Oscar that became "The Spanyard", even he is 100% italian. But we forgot the origin of this nickname.
I was not able to taste all the dishes, because priority is given to the guests and as member of the staff we could taste only the dishes saved for the photo shooting.  They told me about the wonders of the predessert with foie gras and caramel. And I can not smile to think back to the dessert "And now … who wash the dishes?".
Imagine being almost cleared the table and looking at a sheet of plexiglass with a yellow and green sponge yellow laying on it. Then people coming out from the kitchen with a splash of Alkermes, almond ice cream, icing sugar, caramelized puff pastry.
The history of this dish is just as fun. The sponge is at the center of a playful exchange on Facebook between Luca, Alessandro Negrini (Sous chef at Aimo e Nadia in Milan) and Carlo Spinelli (aka Doctor Gourmeta, journalist and bon vivant). As a joke Alessandro and Carlo tagged a photo of a sponge and revealed it as a new proposal for dessert. Luca, as most superheros do, was not been able to pull back and tried it in the kitchen. The cake will be in the menù Madonnina del Pescatore from December 2012.
But that's not all. Another superhero showed up: Nik Orosi, elected for three years in a row best bartender in Croatia and coffee aficionado. He chooses its mixture, roast the grains and assembles a steam punk machine that prepares cups and cups of espresso. You can not imagine the brilliance of a Sunday morning, when exhausted by a few hours of sleep, we saw him turning on the machine and preparing the dark and fragrant nectar. Well worth a trip to Zagreb in his Elis Caffe, dedicated to his eldest son.
And the carts? Ah yes, those are always useful.
The complete menu and wine pairing can be found here (in italian, sorry. As i said, this is an experiment. Let me know if my english need to polished